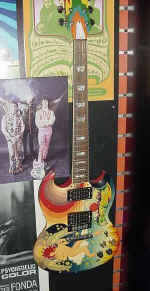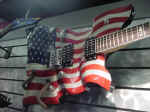 Two "art guitars" for your viewing pleasure.

First, on the left, is an Epi version of Mr. Clapton's "The Fool" SG/Les Paul. This is a replica of the SG he played on the Disraeli Gears album in 1967. Very 60's...very groovy. Not sure many in the Creed/ Godsmack generation will get it. Always plenty of old guys around to snap this stuff up, though.

On the right is a killer ESP flag guitar. Thomas Horlander would love this rig, and we hope he doesn't ask us to build one like it! Very creative...very cool.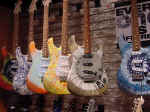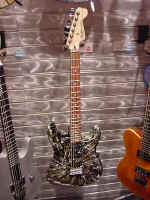 It must be NAMM if there are Strats with new paint jobs. Here is the new "Splatter" paint which, like the previous SG, is very groovy in a tie-dye kind of way.

I don't know about you guys, but the dizzying array of Strat models and features is sort of confusing. Look at a Fender catalog, then think back when there were only about two options on one model!

We continually ask Ken, a Fender dealer, how he responds when a customer comes in and says, "Yes...I want a Strat."