Well, a few days later this gem magically appeared. This is a 1975 Ibanez Rocket Roll Sr., also known as a 1958 Flying V copy. Some refer to this as a lawsuit guitar -- see the Opinion Page for more on that.

This guitar has all original parts, including the case. The frets had almost no wear, and there were very few dings on the body. The neck is great -- it is almost a direct copy of my Gibson SG '61 Reissue. It was also very cheap. There was just one little problem....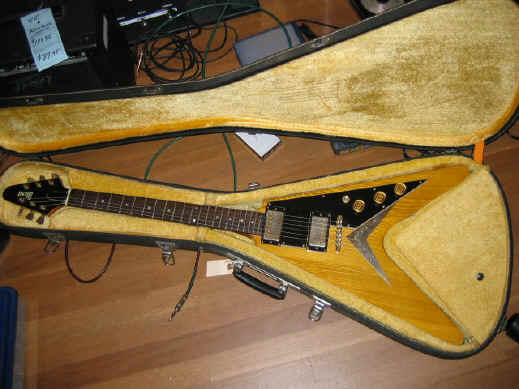 Since this was the first year of the Rocket Roll Sr., we might expect some problems. Well, that problem was the neck angle. Because of the guitar's extremely shallow neck angle, it was unplayable...you just couldn't get the strings low enough. This clearly accounts for the lack of wear on the frets -- nobody could play it!

There had been an unsuccessful attempt at a neck reset that we'd have to clean up. Because of this, this V would be our player -- it was no longer "museum quality" because of the previous attempts.

We stripped the hardware from the body of the guitar and set out to get the angle correct. We steamed the neck out with our Mr. Coffee Espresso Maker, and cleaned up the old glue. Using a square aluminum tube, we were able to measure the neck angle against the bridge to make sure our angle was correct. We taped the tube to the neck and marked the bridge position and the 12th fret on the tube with a Sharpie.

Once we got the distance and angle correct, we started fitting the neck into the mortise on the body.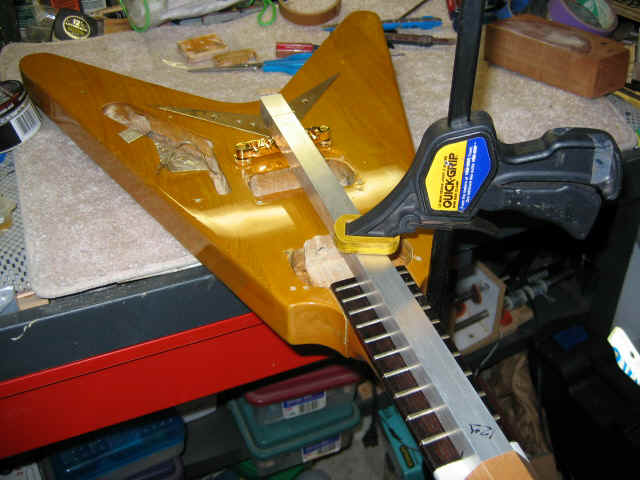 Once we had the neck angle set, we got out the Titebond and glued it in place. Always use Titebond because you may have to steam the neck out again!

The green plastic wrap is there to keep the caul (in this case a small block of mahogany) from sticking to the glued neck surface. It will usually just peel off when the clamp is released.

After we unclamped the guitar, we checked the angle again. Once the glue had dried for 24 hours, we strung the guitar up.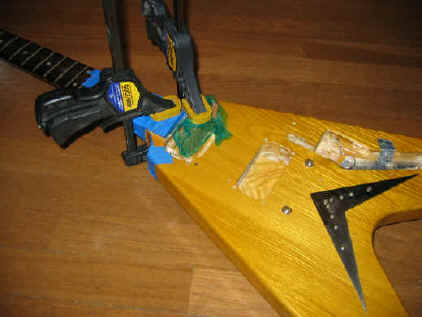 Here is a shot of the guitar with the strings on and playing extremely well! We decided to let the guitar sit for a couple of days with the strings at pitch to check and make sure there are no issues prior to touching up the finish.

What a classic shape! Over Christmas 2004 we picked up a vintage Dimarzio Super Distortion for the bridge position of this rig.

We also have a NOS set of Ibanez Super 70's from back in the day...they are in their original boxes. We'll save those for another project.