OK...let's forget for a minute all of that hoo-haa about TV yellow. After some painstaking research and talking to some dudes that are supposedly in the know, Les Paul never played a TV yellow guitar on television. Gibson's TV line reflected Les' notoriety on television, not the color of the guitar. In June, 1953, Les Paul and Mary Ford's"Vaya con Dios" hit the record bins, and shot to the number one spot. Following this success the couple started to host their own television broadcast from their Mahwah, New Jersey home. Sponsored by Listerine, it was known as the Les Paul and Mary Ford At Home Show. So what does this have to do with the color of the guitar? Nothing, in my opinion. Gibson refered to the color of the TV guitar as limed mahogany. Limed mahogany, what we know as TV yellow, was a very popular furniture finish back in the 1950's. My grandmother has an old Muntz console TV that is finished in limed mahogany. Bottom line: It is probably safe to assume that the pleasing yellow guitars that we love today trace their heritage not to the harsh lights of 1950's television, but rather to the furniture trends of the day.

Now that the history lesson is out of the way, we decided to build a new FM guitar out of mahogany. This is the journey of the finishing process. Check out the FM3 section back in the Builder's Gallery for the complete building notes. And for some reason, the thing just had to be yellow.

Check out the photos below, and click on them for a full size version (see them up close).

Here is a couple of shots of the new FM prior to finishing. The guitar was built just like the FM3 Mahogany guitar in the Builder's Gallery.

The body was made from a one-piece blank of Honduran Mahogany purchased on eBay. The neck was from a nice piece of Honduran Mahogany which, coincidentally, was the other half of the FM3's neck.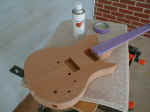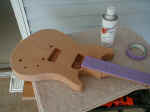 The only difference between the two guitars is that the neck joint is very similar to a 1950's Les Paul Junior rather than a modern Les Paul. Here is a close up of the neck joint. Also note that the pickups will be P-90s.

The neck joint is pretty hefty, and I think that it added significantly to the cool tone of the Juniors and Specials made by Gibson. What you have is essentially a Fender-style mortise with a small amount of wood on the lower cutaway side. The neck has a Fender-like tenon, only deeper.