Matthew and I traveled to the Bonnaroo Music and Arts Festival in Manchester, Tennessee for a second time after last year's maiden voyage. Just like last year it was an exhaustive – and exhausting – journey into music, merchandise, and a sea of humanity.
The festival, held Thursday, June 11, 2009 to Sunday, June 14, 2009, was geographically located on the 600-acre McAllister Farm in Manchester, Tennessee adjacent to Interstate 24. The site - still in use today - is within 500 miles of 80% of the population of the United States.
2021 Note: It is interesting to look at Bonnaroo from 12 years ago and doing the calculations on how many of the acts are, and are not still around. It is also interesting to see LiveNation taking over the festival and grounds. I didn't want to do yet another listicle about Bonnaroo...we don't have time for that.
Bottom Line: There were some great shows during 2009 'Roo. To me, the two momentous things we saw was the last Beastie Boys concert and the first Phish concert almost five years after they had broken up and their first appearance at 'Roo.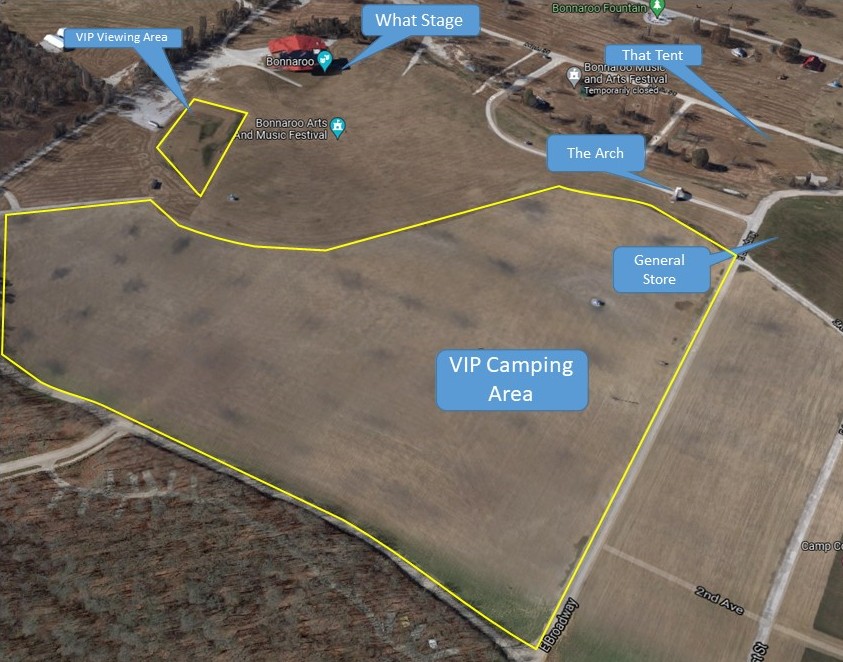 An Overview of the site...
Thursday, 11 June 2009:
We missed some good acts, all in the "That Tent". We missed local Middle Tennessee country/roots rock legend Charlie Allen; Portugal, The Man (before their jump to Atlantic Records); and Zac Brown Band – a band that had a number one single with "Chicken Fried" the previous year – closed out the night.
Friday, 12 June 2009:
We arrived mid-afternoon 12 June 2009. We drove up from Atlanta, fought our way through the I-75/I-24 mess that is Chattanooga, and found our way to the Manchester Food Lion store. Matthew and I got several bags of ice and some munchies. The parking lot was packed and it was really hot outside – lots of Roonies. We iced-down our drinks and took the short drive over to the Farm and found our way into the VIP area.
We looked forward to staying in the VIP area, and we made a little campsite using some pup tents and our Ford Explorer. We put up a tarp and made a sitting/drinking area, and we were pretty close to both the food/internet tent and the mobile shower trailer.
The only downside was that there was a guy with a camper next to us. He had a cheap generator that really made a racket; yes, they were bad neighbors. The local wardens didn't make him get along with the rest of his neighbors.
Once we got our camp set up we started walking around. We met up with our friend Ken over by the General Store/Ice Truck and tried to decide where to start.
Sonic Stage: moe. acoustic (4-4:30)
Reverend Al Green was on the What Stage 6-7:30.
What Stage: Beastie Boys (8:30 -10 PM) the last show and and Phish (11:00 -2:00) comeback show
We sat in the VIP area near to the left side of the staqe while facing it on a little knoll with its own bar.
Beastie Boys
First up was Beastie Boys. They performed a 24-track set that covered their entire career, even pulling out "Egg Raid on Mojo" off of their 1982 EP Polly Wog Stew. They rocked "No Sleep Till Brooklyn" and had special guest Nas come out for their new song "Too Many Rappers." The rest of their set list was centered around their 1990's albums Ill Communication, Check Your Head, and Hello Nasty.
The group did a five-track encore with two performances of "Heart Attack Man" and an rockin' performance of "Sabotage" to close out the night, becoming the last song the group would ever perform live together.
Their Bonnaroo performance was not expected to be their last, and they had many upcoming festival appearances planned. They even had a new album, Hot Sauce Committee, to be released on September 15, 2009. A little over a month after the band's Bonnaroo performance they announced that the album release and tour would be postponed because Adam Yauch, aka MCA, had been diagnosed with salivary gland cancer.
The cancer turned out to be much worse than anyone expected. MCA was not able to continue touring but the group rebuilt their album and released Hot Sauce Committee Part Two in April 2011. On May 4, 2012, Yauch passed away from the cancer at the age of 47. Adam "Ad-Rock" Horovitz and Mike "Mike D" Diamond (the surviving members of the Beastie Boys) swore to never perform without Yauch, making "Sabotage" at Bonnaroo 2009 the last song they ever played in public.
Phish
This show marked Phish's first appearance at Bonnaroo. This "late-night set" began at approximately 11:00 p.m. Is is said that they played a version of AC/DC's Highway to Hell for the first time since February 26, 1997 during a show in Germany.
Phish officially broke-up in late 2004 following the Coventry Festival in August 2004. The breakup was announced by the band in a spring 2004 letter to fans from Trey, followed three days later by a longer letter from Page, and conveyed there and beyond as a permanent breakup, with certainty. The Phish performances at the festival in Vermont was billed as the "breakup shows".
The reasons given for the breakup changed a bit: the desire to spend time with family, concerns about the organization becoming a burden, the pressure of expectations, the desire to avoid becoming a nostalgia act, etc. Probably each of those reasons existed, and may have been relevant.
But one of the most important reasons for the breakup, as Trey revealed in later interviews, was that reportedly he needed to get clean.
An earlier respite, labelled "the hiatus" (the 815 days from 10/7/00 to 12/31/02), had not succeeded because it hadn't been accepted as a separation. During the breakup, Trey hit bottom with an arrest, followed by probation, treatment - and the band's return. As he wrote in the opening lines of "Shine", "When the day's come and gone, You know we all ride on."
The "breakup" thus lasted 8/15/04 to 3/6/09, 1664 days, just more than twice as long as the hiatus, but apparently long enough for Trey. The show we saw at Bonnaroo was their first live performance after reuniting.
Note: In 2017, Phish took over Madison Square Garden for their now-famous Baker's Dozen run, a 13-night residency at the iconic Manhattan arena, During the run, the band performed 26 unique sets featuring a grand total of 237 songs with not one repeated. As a musician and band guy, this feat is almost unimaginable.
We ducked out of Phish after about an hour to see Public Enemy in the "This Tent". Starting at 12:30 am, they did "It Takes A Nation of Millions" start to finish to celebrate it's twentieth anniversary.
There they were: Chuck D, Flavor Flav, Professor Grif, DJ Terminator X, and all the S1Ws. I used to be in to Public Enemy back in the 80s, and it was just unreal that they were back on stage. They played it front to back, including the hit single "Don't Believe the Hype" in addition to "Bring the Noise". "Fight the Power" is always a crowd pleaser, particularly when they talk about Elvis and John Wayne in front of a bunch of white college kids.
Saturday, 13 June 2009:
It was a hard first night. Waking up mid-morning, the cool part was taking a shower in the mobile shower trailer. We were able to cool out in the VIP tent and get some great food. We saw a number of acts, but the ones we were looking forward to were kind of spaced-out time wise.
We watched Gov't Mule and Mars Volta on the "Which Stage", then moved over to the "What Stage" to see Bruce Springsteen at 9 PM. The Springsteen shown kind of got tedious, so we moved out and wound up catching Nine Inch Nails on the "Which Stage" and sort of equal parts of the .moe set in the "This Tent" and Ben Harper in "The Other Tent"
Overall Impression: Lots of music to see and it was still hot.
Sunday, 14 June 2009:
That Tent: Cage the Elephant (12:15), and a little of Dillinger Escape Plan after them with both being in the "That Tent". We packed up and headed back to Atlanta because I had to work the next day.
We are sorry we missed The Lovell Sisters on the Sonic Stage 12:30 to 1:30. This is the group which became Larkin Poe. We also missed Elvis Costello, Al Green, Snoop Dog, Sunday Phish Show,
It was still great.
Some things to remember about the 'Roo:
1. You can't see everything. You have to pace yourself and stay hydrated.
2. Pick the bands you want to see before you arrive -- look it up when the schedule is released -- and avoid all of the wondering around.
3. It is hard to get a ride from the "grounds" to the Walmart in Manchester. Wear walking shoes and forget the flip flops.
4. The food was awesome and expensive.
5. Lots of great vendors and products. There are some really talented people in the United States, and we need to keep encouraging them to invent things and make money. We are big supporters of Hemp clothing. It is a great idea for the former tobacco belt in the United States.
Finally, if you really like a band or musical act, go see them when you get the chance. You never know when they will play their last show.


Overall a great experience. See you next year!